Here's what to expect from the property market in South Africa in 2021
Staff Writer17 January 2021
Buyers, sellers, landlords and tenants will be looking for more value in the services that are offered to them. This will lead to an even more competitive business environment.
Practitioners in the real estate sector need to ensure that we shift our focus from a transactional business to a relationship-based business, said Stevens.
"Service levels in our industry are generally very low, especially considering that we are dealing with major investments that often involve major emotions too. For the person selling, buying or renting a home, it's a very personal thing and an opportunity to touch hearts and influence people. We have to become customer-obsessed," he said.
Consolidation
Stevens anticipates real estate transactions becoming more integrated with other fields, such as conveyancing. He also predicts they'll be more automated and streamlined thanks to broader adoption of CRM systems.
There are so many elements to a property transaction and that presents an opportunity to expand one's service offering and one's revenue streams. Property practitioners who are prepared to think outside the proverbial box and go the extra mile will thrive.
The rental market
The rental market has not been at levels like this since the 2008 financial crisis, said Stevens. "Vacancies and tenants in arrears are at all-time highs and with TERS relief having recently come to an end, I think we are going to find rentals collections will be under pressure for at least the 1st quarter of 2021."
Unfortunately, he predicts that vacancies will remain high for most of 2021 as the economic difficulty continues. "The difficulty in finding good quality tenants, something the industry has battled with for the past few years, will intensify."
Stevens noted that while there is an abundance of tenant enquiries for property, tenants who actually qualify are becoming hard to find.
"A factor here could be that current, good tenants are realising that in many cases the amount they are paying for their rental is very often the same as what monthly repayments on a bond would now be if they bought a home at the current low interest rates," he said.
Stevens also notes that the holiday/short term rental market has been under severe pressure this year and, as the South African economy will continue to be under pressure during 2021, this sector will continue to be strained as people have fewer surplus funds for holiday use.
Technology
"Technology is becoming a defining factor of our business environment and the lockdown certainly pushed the benefits of technology to the forefront," Stevens said.
"It is going to make it harder for independent agencies to compete with your bigger franchise brands."
Stevens sees systemisation of business processes being a key facet in the ongoing success of a real estate business and says survival will be predicated on creating efficiency: "Not only to make the agents' role easier but, more importantly, to make the customer experience with your brand a better one," he said.
"Within our brand we are already seeing stronger franchisees absorbing smaller franchises around them, and using the economies of scale to implement efficiencies in terms of staffing, offices and systems to create a business is financially robust."
Commercial property trends
The commercial property sector has been under pressure for some time and unfortunately Covid-19 has resulted in further pressure, particularly in the retail and office environments, said Stevens.
"Retail has been under threat for many years as more and more people become more at ease with purchasing goods online. Owners of retail spaces are going to have to look at what they can change within these spaces in order to secure their yields. On the other hand industrial space is fairing well, as goods will always need a space to be stored."
Stevens added that office space is another sector that is facing difficulty. The lockdown period entrenched a trend that was already starting to strengthen, with many businesses now being more comfortable with staff working from home.
"The large office spaces of the past are going to be replaced by smaller offices, with many tenants opting to use either coworking spaces or a hybrid version of this."
Property Investment
"With interest rates so low, it is certainly a good time to be buying an investment property," said Stevens, while warning that investors should take into account that rental inflation is also at an all-time low, sitting at around 1.5% nationally.
He advises investors to do their research. "There are good investment deals out there, but investors need to look for areas where there is an abundance of good quality tenants but without high vacancy rates."
"I believe that the strong demand from property purchasers is an indication of where we will be in the first half of 2021. The high demand will continue into this period, and demand will start to exceed supply. Quality stock will be harder to find and that will move us from a buyers market into a sellers market during the second half of next year."
Stevens believes this scenario will begin to drive property prices up, "which is good for investors and all property owners alike. as we have had several years of very low growth in property values".
Work-from-home
Landlords, mitigate your risks in this economy,
The tightening of the lockdown restrictions amid the second wave of the Covid Pandemic once again highlights the risks of rental property ownership.
Pressure on employment and household finances naturally impacts the ability of tenants to pay their monthly rents, says Antionette McClean,
A rental property investment is significant and the risks to the ability to earn sustained rental returns and keep costs contained, especially around maintenance and damage, is substantial.
Ms McClean says that we have seen over the last year that landlords are facing an increase in late payments, reduced payments, and non-payments. Although this should improve, landlords should take important action to mitigate the risks associated with their investment.
What are some of these mitigating factors? She gives some advice:
Open a separate account for the monthly rental
Open a separate account for receipt of the rental income and do not operate debit or stop orders off it. The risk is that should a tenant pay late or default and the debit and stop orders are rejected, there is a cost to the landlord.
Create a reserve fund
Put a reserve aside to create a financial buffer should there be a default on the monthly rent. Remember, you cannot use the tenant's deposit until the lease terminates. Ensure you are able to cover the property related expenses such as the mortgage bond payment in the event that the tenant defaults or pays late so that your credit standing is not impacted.
Ongoing maintenance is vital
Set aside at least one month's rental to do maintenance on your property annually.
There is a wide misconception that the deposit held by the landlord, on behalf of the tenant, will cover all and every damage to the property. Only damage over and above the ingoing inspection report can be claimed. The landlord remains liable for fair wear and tear which all property owners experience in maintaining the condition of their property.
Take immediate action when a tenant defaults
As soon as a tenant breaches the lease in any form they must immediately be informed through the required process of such breach. Many landlords run their properties with their "hearts" and then get frustrated when verbal agreements with the tenant are not met. Remember that multiple breaches allow for cancellation of the lease agreement.
Ingoing and outgoing inspections are vital
A professional in-going inspection is vital, and it could be a risk for the landlord to do their own inspection to save costs. I have been to many Rental Housing Tribunal arbitrations where, if not for the detailed in-going inspection, the landlord would have had no claim for damages.
The law is clear. If the in-going inspection was not done, then the landlord must prove that the damages did not exist at commencement of the lease. The cost of a professional inspection is like an insurance premium to protect the landlord's property for damages and to claim for such.
Ensure all compliance certificates for the property are valid
In terms of the tenant's safety, under law, the landlord has an obligation to ensure the property remains compliant with all regulations. An obvious one is the electrical compliance certificate which often results in issues. In case of a claim, the landlord must prove that all the necessary was in place to prevent claims arising against the landlord.
Proactively manage the property
Ensure that you do regular interim inspections to ensure there are no surprises at the end of the lease term. Pro-active management of the property by both landlord and the tenant are critical. Landlords should not rely solely on the ingoing and outgoing inspections. After a year, many problems that could have been prevented might now take time to resolve and not necessarily to everyone's satisfaction.
Landlords should have an annual maintenance plan to keep the value of the property and ensure that they can achieve the maximum rental for the property.
The landlord may, with reasonable notice, inspect the property to ensure that all is in order. The lease agreement usually states that the tenant must keep the property in the condition they received it at all times and that the landlord can insist, on discovery of an issue, that such issue is remedied immediately.
Personal Liability insurance is vital to cover any eventuality that might arise out of the tenancy
Should something happen to a tenant that is a direct result of the landlord not ensuring that the property was compliant in terms of regulations, then the landlord will be liable for damages that arise out of such a claim. As a landlord you should ensure that you always have the necessary Personal Liability insurance in place when renting out your property.
Home finance explained to first-time homebuyers
The number of first-time buyers entering the property market has increased significantly thanks to the historically low interest rates. When applying for home finance for the first time, buyers should take time to understand all the costs involved before they commit themselves to a set of expenses they cannot truly afford.
"When purchasing any property, there are a plethora of related expenses of which first-time buyers are often unaware. These expenses take the form of upfront, once-off fees such as bond registration and transfer costs, as well as ongoing monthly expenses such as life and disability cover, levies, municipal rates, and taxes. Buyers need to have a full picture of all these expenses before starting the house-hunting process as this will affect the size of the home loan they can afford," explains Adrian Goslett,.
With regards to the latter set of monthly expenses, Goslett points buyers to the details listed on property portals. "Most listings will provide details of how much the levies, municipal rates and taxes will be on that particular home. Buyers can also ask the real estate agent if these details are not available online."
"Life cover is another mandatory monthly expense that most financial institutions require in order to grant buyers a home loan. Each bank has their own lending requirements when it comes to life insurance policies. Instead of having to do the research themselves, BetterBond can advise buyers about the various prerequisites involved when applying for a home loan," Goslett suggests.
Buyers can also get a good idea of what the upfront bond registration and transfer costs will be by looking at the 'Bond and Transfer' calculator on BetterBond's website. This calculator describes all the various costs involved, which include:
• Bond registration costs are the fees charged by the attorney to register the Title Deed of the property into the new owner's name.
• Transfer deeds office fees cover the cost for the deeds office to transfer the Title Deed into the new owner's name. There are additional deeds office fees payable based on the bond amount.
• The Bank initiation fee is charged by the bank to open the buyer's home loan facility.
• Unless the property is valued under R1 million, transfer duty is payable to SARS over and above the purchase price (visit the SARS website to find a full breakdown of these costs).
• Property transfer costs are payable to the transferring attorney for his/her work in transferring the property into the buyer's name.
• All other the costs involved during the bond registration and transfer process are labelled as 'Post, petties FICA, other fees'. These include things such as cost of telephone calls, postage, courier, administrative costs, and bank charges.
There are lots of unknown variables when buying a home for the first time. "Buyers should never feel embarrassed or shy to ask questions. The home buying process is not taught in school and most homeowners only learn these things through first-hand experience. Buyers should always feel comfortable to speak to the professionals as they are there to help make the whole process easier," Goslett concludes.
A missed opportunity for greater property price appreciation
The Monetary Policy Committee (MPC) has again announced that interest rates will remain stable, keeping the repo rate at 3.5% and the prime lending rate at 7%.
According to Adrian Goslett, house price appreciation and rental escalations have remained subdued for some time now; enough that an interest rate cut at this meeting could have helped stimulate further growth within the local property market.
The Q4 2020 National Housing Report reveal that, for the fourth consecutive quarter, the median asking price of sectional titles have dropped YoY, shrinking by 3% when compared to Q4 2019. The average active listing price  also dropped by 13% YoY. The only segment the showed growth was the median asking price of freehold properties which grew by 5% YoY.
"Although the property market is very much active at this time, many buyers and sellers are struggling to make ends meet within the current economy, which puts downward pressure on asking prices. An interest rate cut could have helped alleviate some of this financial pressure, allowing room for property prices to strengthen," Goslett explains.
While it is unlikely that we shall see interest rates climb this year, Goslett still advises homeowners to leave room in their budget for a possible increase of around 0.5 points during the course of 2021.
"While it is possible that interest rates may drop further during the course of the year in response to the ever-evolving circumstances surrounding the pandemic, it is always advisable for homeowners to make provision for the possibility of a minor increase, as this will directly affect the repayments on their home loan," he recommends.
Goslett also encourages buyers to enter the property market while interest rates are at this record-breaking low. "It remains unlikely that interest rates will return to their previous levels of around 10% within the near future. I therefore encourage buyers to make the most of the current market conditions before things change," he concludes.
Possible reasons why your home isn't selling
The property market is experiencing a boom of activity, particularly in the first-time buyers' market. Despite high levels of interest, many parts of the country still find themselves in a buyer's market where listings are in no short supply.
To put seller's minds at ease, Adrian Goslett, explains that if a home is priced and marketed correctly within the current conditions, sellers should have no trouble selling within a reasonable timeframe (provided there are no unforeseen adjustments to lockdown restrictions).
If sellers find themselves in a position where their home is taking longer to sell than others within their market, then the first thing Goslett recommends reconsidering is the listing price. Knowing your competition is crucial in this regard. As a rule of thumb, for those who hope to secure a timeous sale, a property should be priced at an average of the top ten cheapest listing prices of similar properties for sale in the area.
"Pricing a property higher than the average in hopes of getting a better deal is often a waste of time. While there are plenty of willing buyers these days, buyers also tend to understand the market well and will simply ignore the listings that fail to offer good value. Sellers need to remember that, within the current economic situation in which we find ourselves, buyers are in need of a good deal just as much as the seller is in need of a good price. While it is okay to leave some space for negotiation when setting the listing price, I would advise sellers to list close to the low-end of their price point if they want to sell quicker," Goslett recommends.
If, after reviewing the listing price, sellers still find themselves unable to sell timeously, Goslett suggests gathering some objective feedback on the home. "Ask your real estate agent as well as some brutally honest friends and family for their honest opinion of the home: from its overall presentation to every other piece of constructive criticism they may have. This is understandably difficult, especially for those with a sentimental attachment to a property, but buyers will see all the faults sellers might overlook. Receiving some honest feedback can help sellers make the changes required to sell the home faster," he explains.
For those in a particular rush to sell, Goslett also cautions that it can be difficult to sell a property quickly, as most homes take on average around three weeks before receiving a viable offer. "The key is to find a reputable agent with the backing of an established brand, who can get your marketing strategy correct and reach out to a wide network of contacts to help sellers secure a quicker than average sale," he concludes.
Why absence during viewings is safer & better for the seller
The pandemic has changed the way in which the real estate industry operates. To minimize the risk of infection, sellers (especially those who are at high-risk) are advised not to be at home when potential buyers come to view their property. This is not only better from a health and safety perspective, but also from a marketing perspective.
"As much as it can be more convenient not to have to leave the home, by choosing to remain on the premises during a showing, sellers could be inhibiting potential buyers from being candid with the agent regarding their thoughts of the property. This feedback could be vital to help the seller make the necessary adjustments to sell the home," advises Adrian Goslett,
Beyond this, when a seller is in the home, Goslett explains that many buyers often feel rushed to get through the viewing quickly as not to take up too much of the seller's time. "This is vital time that a buyer needs in order to decide whether or not this property could work for his or her needs," he states.
Many sellers might also prefer to be around during a showing so that they can step in if they overhear a question being asked that their estate agent cannot answer. "The problem is that this can often create the impression that the seller is desperate for the sale – a position no seller wants to find themselves in. In a worst-case scenario, homeowners have even been known to accidentally let slip the minimum offer they would be willing to accept, which leads to a lower selling price than what could have been arranged through the agent," Goslett warns.
Many homeowners also choose to remain in the house for extra security measures. But Goslett explains that responsible agents will advise homeowners to place valuable possessions out of eyesight before a viewing and will be sure to keep an eye on the buyers as they walk through the property.
"Apart from the marketing-related reasons why it is better for the seller not to be present during a viewing, this option is still the safest solution for as long as the current pandemic is underway. Agents will also advise viewers that there is a no-touch rule when viewing a property and will sterilize all high-touch areas in the home both before and after the viewing has taken place. Although this process is different from what most are used to during the house-hunting process, these procedures exist to protect the seller, buyer, and agent," Goslett concludes.
Whatever happens, don't wait for your home to be repossessed
Homeowners who are under financial pressure and worried about falling into arrears on their home loan repayments should act quickly and do their utmost to prevent their properties from being repossessed and sold off at a sheriff's auction.
That's the word from Gerhard Kotzé, who says that properties disposed of in this way are "more often than not" sold for considerably less than the outstanding balance on the home loan – which leaves the former owners in a terrible position: still in debt to their bank for the remainder, without a home and with a wrecked credit record.
"What is more, recent on-the-ground research by Business Insider* shows that this is the case despite the legal ruling in 2018 that when a primary residence has been repossessed and is being sold in execution of a debt judgment, there must be a reasonable and court-approved reserve price in place."
The idea behind that ruling, he says, was to prevent repossessed properties from being sold for ridiculously cheap prices at sheriffs' auctions – or being taken "into possession" by the banks for just a token payment if they remained unsold at auction. "The purpose of a sheriff's auction or sale in execution is, after all, to try to raise enough money from the sale of the property to at least pay off the debt to the bank.
"In addition, the banks really don't want to have to be responsible for repossessed properties that have not been sold, because these often also come with large arrears on municipal rates, service charges and levies, and then also cost money to secure and maintain."
Nevertheless, Business Insider found that the repossessed properties on recent sheriffs' auctions in Johannesburg were being sold at an average of 42% below their municipal valuations – and in some cases at much bigger discounts – and that there was no reserve price placed on any property which was being offered for sale on auction for a second or third time.
"It is thus very unlikely," notes Kotzé, "that the proceeds of these sales would have been sufficient to completely extinguish any outstanding home loans, with the result that many of the former owners will most probably still have a sizeable amount to pay off and also have to live with the debt judgments on their credit records until they do."
However, there is no need for this to happen. "Homeowners who find themselves in financial difficulties should never just give up on the situation and wait for the sheriff to attach their property and auction it off. A much better option is to immediately contact a reputable estate agent who can help them to enrol in one of the assisted-sale programmes that have been set up by the banks specifically to help financially distressed sellers. They will then be able to sell their property on the open market – before the bank goes to court to seek a debt judgment against them and start the process of repossession."
RealNet has the realRescue© plan, for example, which has already helped many hundreds of financially distressed clients to overcome the difficulty or embarrassment of having to approach their bank by themselves, and to escape the trauma of having their home repossessed and possibly even being evicted by the sheriff.
"And we are expecting the need for this service to be even greater this year, with home loan defaults set to rise as an increasing number of homeowners experience the full effects of the employment and business losses brought about by the Covid-19 pandemic."
Properties sold through the bank assisted-sale programmes, he says, are currently selling for an average of 85% of market value, and another major benefit includes the fact that sellers' credit records remain intact. The banks also offer certain benefits to make assisted-sale even more attractive to buyers, such as reduced bond registration fees.
Millennials go back to the 'burbs – with Mom and Dad and fam
As Generation Z flocks to the cities, more and more members of Generation Y (more popularly known as Millennials) are steadily moving back to the suburbs to live with their parents and often, their siblings and grandparents too.
And this migration is not only about money – or perhaps the lack of it, as more and more people watch jobs and businesses disappear in the wake of the Covid-19 lockdowns. "It's also very much about having more living space and gardens and the company of other people you like, love and trust," s
"Millennials, now aged between about 26 and 40, are renowned for rejuvenating many city centres around the world as they fled from the suburbs a decade ago and went in search of the live-play-work lifestyle in their trendy lofts and high-rise apartments handily located close to coffee shops and restaurants, galleries and theatres, gyms, artisanal bakeries and handmade clothing and jewellery outlets, as well as their offices.
"But with the advent of the Covid-19 pandemic almost a year ago, many of them found themselves stuck in small apartments and townhouses and unable to enjoy their previous very social lives outside of these spaces."
With offices shut down and almost all other businesses closed, the city centres were largely deserted, and those who still had jobs found themselves working from home full-time, with nowhere to go for coffee break or an exercise session or even some retail therapy, he says.
"Cabin fever started to run rampant, especially among those who were also trying to homeschool children in their new at-home workspaces / living rooms. And at the same time, many Millennials were worried about parents and other elderly relatives living in retirement homes and care centres, which were some of the institutions worst hit by the Covid-19 virus.
"So it's not really surprising that as soon as the harshest restrictions were lifted, they swiftly started to head straight back to the suburban environments of their youth, and either move back in with their parents or pool their resources with other family members and purchase multi-generational properties where there are gardens for the children to play in, "granny flats" for the ageing in-laws to be safe in, and home offices that are separate from the main living areas."
Writing in the latest Property Signposts newsletter, Everitt says that some have even gone so far as to move away from the city altogether and head for smaller country or coastal towns, having realized that as remote-working fast becomes the norm, they will increasingly be free to live wherever they please without having to face a time- and money-wasting daily commute.
"What is more, many Millennials are likely to make these changes permanent as they experience the joys of owning a property that enables several generations or branches of the family to live together and share costs, chores, childcare and even food production, while also enjoying their own entertainments and social interactions – and provides better security due to the continuous presence of people on the property.
"As a result, there is expected to be a boom over the next few years in suburban home alterations to provide the extra spaces needed to accommodate more family members as well as home offices, entertainment spaces and even classrooms, and an increase in demand for larger stands and smallholdings where extended families can build separate homes and enjoy the best of both worlds: togetherness and privacy when they need it."
And in this way, he says, the Millennials, who have been prompted by the pandemic to completely rethink their lifestyles for the second time in their lives, are likely to have a profound effect on real estate trends and prices – again.
Deciding whether to downsize to relieve financial pressure
The decision to downsize is often not an easy one to make. Those who have faced retrenchment or ongoing salary cuts due to lockdown restrictions should consider whether their financial situation could become more manageable if they choose to downscale.
Adrian Goslett, Regional explains that as tough as it might be, homeowners will stand a much better chance of recouping their losses and bolstering their financial position if they sell before they start falling behind on their bond repayments.
"The process of adjusting to a smaller living space is filled with complicated emotions that are often easier to deal with when you have arrived at the decision willingly rather than begrudgingly if and when the bank forecloses on the property," he explains.
Understanding that this is not always an easy decision to make, Goslett offers his insights into how downscaling might afford homeowners more financial freedom. "The true saving in downsizing is not necessarily the profit from the sale, but what homeowners stand to save on their monthly home loan repayments. Sellers might not get as much out of the sale as they had hoped after factoring in all the costs involved, such as the outstanding bond amount, agent commissions, cancellation fees, etc. But, after moving to a smaller home, sellers will have more disposable income in their monthly budget to help them pay off or avoid getting into further debt."
Another important factor is the money homeowners will save on maintaining a smaller home. "Having a smaller space means that your electricity and water bills are likely to be much lower. If you had a large garden, you will also save on the costs of garden maintenance."
Rather than focusing on what is being lost, Goslett encourages homeowners to focus on what they stand to gain. "Create excitement around the new home by planning how each of the rooms will look after moving in. For those who can afford it, donate the items that will not fit into the new home rather than sell them. Knowing that the donation will help somebody in even greater need than oneself can often help one deal with the pain of letting go of that item," he explains.
Overcoming First-time Homebuyer Jitters
It is not uncommon for first-time buyers to experience anxiety after signing the OTP and realizing that they have now locked themselves into millions of Rands in debt. As one of the biggest purchases one can ever make, it is entirely normal to experience this form of buyer's regret. To help ease their minds, there are a few considerations of which first-time buyers should remind themselves whenever they feel these waves of anxiety rush to the surface.
"The first mistake buyers make is to think of the purchase solely in terms of the amount of debt they have taken on. Real estate is an appreciating asset. Instead of viewing it as an insurmountable mountain of debt, consider each repayment towards the home loan as an investment towards future wealth,"
The second approach first-time buyers can adopt is to plan and budget accordingly so that they know they can always afford to keep up with the repayments. "One of the biggest concerns for first-time buyers is that they will fall behind on the repayments. The best way to eliminate this concern is to go over the individual's finances and to create a budget that he/she can stick to so that this never becomes a justifiable concern," he recommends.
That being said, there are things that are out of buyers control that could affect their ability to make their monthly repayment. For example, interest rates can change every two months when the MPC meets.
"The best way to avoid unnecessary stress around this is to purchase within one's means and to leave room for a 0.25% increase. Historically, the MPC usually never hikes interest rates by more than 0.25% points at any given meeting. If there is a series of interest rate hikes, these usually only happen gradually which gives homeowners the time to plan and adjust their budget as necessary," he explains.
Having a contingency fund could also prove helpful in putting buyers' minds at ease about their purchase.
"Life is unpredictable. Things often break or suddenly need replacing, which can put financial strain on a household. Buyers might also find themselves temporarily unemployed during the span of their home loan. Having roughly around two months' salary set aside in a tax-free emergency savings fund can lessen the anxiety buyers may feel around keeping up with their repayments," he advises.
After conducting all the necessary planning and reassuring themselves that they can afford their purchase, Goslett suggests putting these thoughts out of their mind and concentrating instead on the excitement of purchasing their first home.
"Once assured that they have made the right decision, buyers should distract themselves from unnecessary worry by focusing on all the benefits of owning their own home. For example, homeowners can hang pictures without getting a landlord's approval and the landlord no longer has the ability to sell the home while you're still living in it, or to increase your rent beyond what you can afford."
"If thinking of these benefits don't work, then build up excitement for your new home by planning a COVID-friendly housewarming with friends and family and start shopping for new furniture for the new home. Purchasing your first home is a big milestone, so do not allow anxiety to sully what ought to be the start of a very exciting chapter in your life," Goslett concludes.
Purchasing an investment property in the current market
Current real estate conditions pose an interesting dilemma for real estate investors. Purchasing an investment property now means that investors will benefit from the historically low interest rates. On the downside, interest rates are also incentivising tenants to move into homeownership, which means that qualified tenants are hard to come by within the current market.
Purchasing investment properties now is a calculated risk that real estate investors will need to decide upon for themselves.
Purchasing a rental property is not a get rich quick scheme.
Property investment of any kind should be viewed as a medium to long-term investment. A property will appreciate over the long term and will generate a rental income, however, there might be costs that are not entirely covered by the rent. There is a good chance that the rental property will pay for itself over time or when the market booms or when the bond is paid off. However, in the initial stages there will probably be a cost involved.
Affording a rental property is not just being able to pay the bond,
he adds. When it comes time to crunch the numbers, Goslett informs landlords that they need to factor in expenses such as property insurance, rates and taxes, utilities, possible legal costs or collection costs, rental agent's commission (a rental agent can assist with vetting potential tenants, collecting rent and general management of the property) and general property maintenance.
Ideally, Goslett recommends that landlords will also need to have a contingency fund in place to assist with any unforeseen circumstances such as issues that are not covered by the home insurance or for legal costs if the tenant defaults on the rental agreement, or if the property stands vacant for a few months and the landlord needs to cover the full repayment on his/her own.
Once a real estate investor has considered all the above and has ensured that he/she can afford to make allowance for the various risks, then purchasing a rental property now becomes a no-brainer. "The way home loan repayments are structured, for the first five to ten years of the loan, bond holders are paying off more in interest charges than on the capital amount. Purchasing a home now means that investors will benefit from the historically low interest rates during the interest-heavy portion of their home loan. This will result in substantial savings and should shorten the amount of time landlords will need to wait before they can start seeing returns on their investment," Goslett concludes.
Predictable outcome as interest rates hold steady
The Monetary Policy Committee (MPC) has again announced that interest rates will remain stable, keeping the repo rate at 3.5% and the prime lending rate at 7%. Adrian Goslett, says that this was a predictable outcome and, unless things take an unexcepted turn, he predicts that interest rates are likely to remain steady for the remainder of the year.
"Homeowners and first-time buyers continue to find themselves in a favourable position when it comes to the interest rate on their home loan. While a further cut would have helped the many South Africans who are struggling to make ends meet within the current economy, keeping rates at this historic low will at the very least make it easier for homeowners to keep up with the repayments on their home loan within this challenging economic climate," says Goslett.
While it is unlikely that interest rates will climb this year, Goslett still advises homeowners to leave room in their budget for a possible increase of around 0.5 points during the course of 2021. "The MPC has warned of two potential increases of 25 basis points in the second and fourth quarters of 2021, but this is all dependent on how the economy performs and many economists predict that an increase is not likely to be necessary. However unlikely it may or may not be, homeowners should just bear this in mind when budgeting for the year ahead," he advises.
As a final word of advice, Goslett explains that activity within the property market has been at an all-time high following the series of interest rate cuts that occurred last year.
"Our reported sales figures YTD February reflect a 33% growth on last year and our registered sales are up by 50%. Our partner, BetterBond, has also seen their home loan business grow in value by 46% over this period, underlining how low interest rates have made owning your dream home a reality for many more South Africans. If activity continues at this rate, it won't be long before we shift into a seller's market where buyers will have to out-bid each other to secure the home. Before this shift occurs, I would recommend that buyers act fast and make the most of the current market conditions," Goslett concludes.
Sole mandate or open mandate: here's the difference
Record low interest rates have increased the number of first-time buyers within the South African property market. Many first-time sellers have also joined the fray, either upscaling, downscaling or simply relocating owing to a change of lifestyle. As a first-time seller, there may be components of the selling process which may be unfamiliar: one of which is the concept of a sole or open mandate.
Explaining this concept, Adrian Goslett, states that a sole mandate is an exclusive contract that stipulates an allotted timeframe during which a seller may not appoint another agent to market his/her property. "Sellers can appoint another agent only once the sole mandate has elapsed. Giving an agent an open sole mandate, on the other hand, means that there will be multiple agents, from a variety of agencies, who will be marketing and trying to sell the property."
The trouble is that many sellers falsely believe that if they let multiple agencies market their home, they will increase their reach to potential buyers which will enable them to sell quicker. "The truth is that it is often far more effective to sign a sole mandate and allow one agent the space to secure the best sale. While the threat of COVID-19 still exists, a sole mandate is also a safer option because sellers will only have to liaise and deal with one agent rather than several," Goslett explains.
Beyond this, working with a reputable agent is the best way to simplify the selling process. A real estate professional's guidance can end up saving sellers money, time, and stress. But, when sellers work with multiple agents, it can become difficult to know whose advice to follow. Working with one real estate agent can streamline the process and provide support on which the seller can rely.
To get the most out of the relationship with their mandated agent, first-time sellers are advised to be as open and honest as possible. "Never feel embarrassed to ask if there is something that you do not quite understand. As experts in their industry, real estate advisors are there to guide sellers through the process, but they might not always think to explain the jargon they use. By being upfront with your agent and asking when you do not understand something, you will be better informed and better equipped to navigate the process smoothly," Goslett concludes.
Is your real estate agent following these Covid-19 protocols?
Selling a home during a pandemic is a delicate balancing act. It's important to avoid unnecessary exposure to strangers, but equally important to allow serious buyers – and professionals like home inspectors – to view a property in person.
With infection figures decreasing and vaccines on the way, SA has now moved to lockdown level 1, it may be tempting for real estate agents to relax their guard in terms of masks, social distancing and sanitisation in order to sell a property. However REBOSA Chairman Tony Clarke, says this kind of risk is both irresponsible and unnecessary.
"A good agent can sell a property just as effectively with strict Covid-19 protocol in place as they could before the pandemic hit," he says. "There really is no excuse for putting lives at risk by relaxing health and safety procedures. Buyers and sellers should make a point of confirming that their agents are following industry best practices, and demand better if it turns out that they are not behaving with the professionalism our industry expects."
REBOSA (Real Estate Business Owners of South Africa) has published a comprehensive set of Covid-19 workplace readiness guidelines and templates for use by the real estate industry. Recommended measures include encouraging real estate professionals to work from home where possible, implementing strict in-office hygiene controls and regular screening, enforcing social distancing and mask-wearing, and preparing for swift transmission control in the event of a team member testing positive for Covid-19.
To minimise risk during interactions with customers and members of the public, REBOSA recommends agents conduct meetings via telephone or video call, and use electronic documentation where possible. Virtual viewings of properties are encouraged, with in-person visits limited to serious buyers only.
"It's a good idea for sellers to request that buyers get prequalified before viewing a property in person, and strictly limiting visitors to two at a time," says Clarke. "Showhouses are low risk as long as the proper safety protocols are followed. That means keeping doors and windows open to maximise ventilation during viewings, making sure all parties wear masks and sanitise their hands on entry and exit, and avoiding touching any surfaces as far as possible."
REBOSA strongly discourages agents from travelling to viewings in the same vehicle as clients, recommending all parties maintain a distance of at least 1.5 metres from each other at all times. A log of all private and showhouse visitor details is also recommended to enable transmission tracking if necessary.
"We are very fortunate to have such a detailed set of best practice guidelines to follow," says Clarke. "It lets our agents focus on their jobs with the confidence that they are doing everything possible to protect their own health and that of their co-workers and clients. Those who aren't doing so have absolutely no excuse for their selfish behaviour, and must be held accountable for their actions."
Budget 2021: A constrained economy exacerbates growing unemployment
Finance Minister Tito Mboweni's 2021 national budget has been delivered against the backdrop of a significant economic contraction in the second quarter of 2020, rising debt to GDP and many South Africans that are in a weakened financial position.
"Significantly, he confirmed that we are spending more than we are collecting from less people," points out Michelle Dickens, CEO of TPN Credit Bureau.
According to unemployment figures released by Stats SA, 2.2 million people lost their jobs in the second quarter of 2020. Despite a recovery, South Africa is still short of 1.3 million jobs from the start of the year compared to the end of the year. The country's current unemployment rate of 32.5% is the highest on record. In the expanded definition, this figure is even higher at 42.5%.
South Africa recorded its largest tax shortfall on record in the past year, collecting R213 billion less than anticipated in the 2020/21 budget. This shortfall will necessitate additional government borrowing of R500 billion per year for the medium term, which means our gross loan debt will increase from R3.95 trillion currently to R5.2 trillion in 2023/24.
Encouragingly there was no change made to the VAT rate, the corporate income tax rate will be lowered to 27% in April 2022 and the personal income tax brackets will be increased by 5% which will provide some tax relief to lower and middle income households. As expected, the excise and fuel levies have been increased, as have sin taxes. "South Africans are already subject to a very high tax rate, paying tax rates that are more commonly found in developed nations, so it was little surprise that government put a hold on the R40 billion tax increase announced in October last year," says Dickens.
"There is no question that in the wake of Covid-19 and a contracting economy, consumers are feeling the pinch," she says, adding that personal finances will be further stretched by the looming 15% Eskom tariff hike.
"One reflection of this is the fact that despite historically low interest rates currently, tenants are not rushing out to buy their own homes because they are unable to afford it. According to the TPN Tenant Survey affordability has become one of the most significant barriers to entry to property ownership," says Dickens.
The survey revealed that nearly 10% of tenants lost their income permanently during lockdown, 12% lost their income temporarily and only 25% received their full pay. "Given the high unemployment figures we can expect to see a growing number of people this year moving back in with friends or family rather than owning their own property or renting a property," predicts Dickens.
According to the survey, money, paying the rent, funding the deposit and a lack of control over the cost of utilities – energy in particular – fall in the top four challenges faced by tenants.
Not only is the economy under pressure, but so are jobs and incomes," says Dickens. "This has a knock on effect on the property market which is also under pressure. In the rental market in particular, reduced demand for property translates into higher vacancies and ultimately, lower prices.
While she is encouraged by the budget's R11 billion allocation to the Presidential Youth Employment Initiative – which takes government funding for employment creation to nearly R100 billion – Dickens questions whether this is effective.
"Within the expanded definition, youth unemployment is at 74%," she points out, adding that the only way to address this challenge is to grow the economy in order to create more jobs. Economic growth, however, relies on an investment into capacity building projects and South Africa has limited fiscal space to achieve this in the current environment.
Foreign property buyers eye SA to escape their lockdown blues
There has been over R178 million in sales to foreign buyers across the Atlantic Seaboard and City Bowl alone over the last four months alone including a luxury villa in Fresnaye sold in December for R36 million to a buyer from Dubai. The property will be their holiday home.
There has been a notable uptick in the market including demand from foreign buyers, especially from the European countries which have experienced hard lockdowns and are in their winter months.
We have seen several of those citizens flock particularly to Cape Town to enjoy the summer months here and have also seen a massive influx of clientele from the African continent, high net-worth Nigerians in particular, he adds. This has mainly impacted the short term rental market of luxury properties.
Sales to foreign buyers included the UK, Switzerland, China, Malaysia, Italy, the USA, the UAE, Nigeria and Greece but enquiries are coming from across the board including Northern European countries such as Germany, the Netherlands and more.
Other high value transactions include three sales in Camps Bay, being R17.7m to a buyer from the USA, R19.5m to a buyer from Malaysia and R21.5m to a buyer from the USA.
The latest sales statistics for the Atlantic Seaboard and City Bowl also shows that there has been a general uptick in sales to foreign buyers in December with these representing about 20% of all transactions compared to just 7% for the previous two months, being October and November.
According to an FNB property report, sales to foreign buyers (non-residents) amounted to around 4.7% of all sales for the second quarter of 2020. Coastal areas and lifestyle and golf estates are often favoured by foreign buyers. They do not just buy for own use, many of them invest in properties for the rental market as well.
There has been a welcome uptick in the market across the Atlantic Seaboard and City Bowl for full title houses in the R10 million to R20 million price range and sectional title below R5 million, he says. Aside from foreign buyers, we have also seen an increase in sales to semigration buyers, especially from Gauteng and KwaZulu-Natal.
Seeff has concluded a number of high value sales including the sale of two properties to the same buyer for R33 million, and a Bantry Bay apartment sold for R20.2 million.
South Africa is a beautiful country with a qualify lifestyle and excellent climate. Cape Town along with many of its tourist attractions have been voted among the most popular in the world and you can find a spectacular location to suit your lifestyle here.
Mr Levin also says that
Agents expect that once there is a return to normalcy with borders and travel open, that there will be a notable further pickup in demand from foreigners who, not unlike South Africans, will be looking to spread their wings and enjoy a better quality lifestyle.
Recently we've seen a return of interest from foreign buyers in many other areas, especially coastal hot spots such as the Cape coastal areas, the Garden Route and all the way up to the KZN North Coast and even the South Coast.
Buying in your 20s: Don't just follow the herd
Thanks to the Reserve Bank, interest rates are still the lowest they've been in 50 years, bond repayments are less than rent in many areas, and all your friends are buying property – but as a young person you still have to be sure that homeownership is the right move for you.
So says Gerhard Kotzé, who notes that the Covid-19 pandemic has also largely removed two other things that have been obstacles to early homeownership in recent years: wanderlust and the need to relocate for work.
"The huge increase in corporate acceptance of remote working means that a great many young people no longer have to worry that they might need to move towns to stay employed, because as long as they have a good internet connection, they can do just that from their current homes.
On the other hand, opportunities to become a 'digital nomad' and travel the world with your work laptop in hand have been severely curtailed by the pandemic, and with international travel set to become much more expensive, are unlikely to be as widely attainable in the future as they have been in recent years.
Consequently, he says, the recent surge in first-time home buying among people in their 20s is not that surprising. "However, there is much more to it than just following a trend among your peers. As a young person, you need to think really carefully about your personal situation before making a commitment that could profoundly affect your future.
"For example, if you decide to save up for a 10% of 20% deposit so that you can keep your bond costs down when you buy your home, you need to think realistically about how long that might take and what other goals might be affected. Working from home, you will probably not find it a big sacrifice to give up take-aways or new shoes or fancy coffees. But what if you had been planning to pay for some study courses to improve your qualifications? Would you be prepared to put that goal on hold to save for a deposit instead?"
Alternatively, says Kotzé, you might decide to go ahead with a purchase with only a 5% deposit in hand – or even to accept one of the 100% loans currently on offer from the banks for those with good credit records. "But before you do, you need to assess the risks involved. Property values could decline and put you in a negative equity situation if you take a bond for 100% of the current purchase price. This type of bond also tends to come at a higher interest rate, meaning that your monthly repayment will be more. And you will definitely be in a more vulnerable position financially should interest rates go up again.
"It is usually better to keep your bond low and then use any spare cash you may have to pay it off as fast as possible to build up equity – even if this means buying a smaller or less expensive property as your first home. But if you have children, this might be problematic, especially if they need space for home schooling in addition to the space you need for a home office. You might find it suits you all better, right now, to rather rent a bigger home where you can all be comfortable."
In addition, he says, young people need to anticipate the total costs of homeownership and work out if they will be able to afford them without putting a strain on their finances every month. "First-time buyers are often surprised by how much it actually costs to run a home, especially if they have been renting and many of these costs have previously been carried by their landlords.
"On top of utility costs and your short-term insurance premium for the contents of your home, you now need to budget, at a minimum, for homeowners' insurance and bond insurance, for example, as well as property taxes, levies if you are living in a sectional title complex or estate, and any repairs and maintenance, as you will now be your own 'landlord'. Will you be able to afford all this comfortably, without feeling worried every month? There's no fun in homeownership if it makes you stressed.
Also, will you still be able to maintain your emergency and retirement savings? It's even more important to do this right now when the economy is shaky and the risk of sudden unemployment is higher, and when there are also increased health risks for everyone.
Kotzé also says that young people should not be driven by FOMO (fear of missing out), because interest rates are likely to stay low for at least the next two years, while home prices continue to rise very slowly. "This is a large investment that is going to have a long-term effect on your finances, so you shouldn't make it in a rush. Slow down to plan properly and buy when you're ready."
Many companies during the last few months have been forced to switch their operations from in-person to remote. Practically all businesses are looking for remote sales teams that can crush the company's sales goals each month without needing any direct supervision. But there are some challenges involved in finding such sales personnel. How can you work with commission-only sales representatives? How to hire the best available remote marketing team? How do you spot the perfect talent for your business? These are some of the challenges faced by remote team managers and recruiters for building a successful sales team. Here are some tips to find remote sales agents for your business.
1. Setting precise demands
Setting clear expectations about the requirements of your business provides your recruiting team a sense of direction regarding the type of team you are looking for. It is normal to receive hundreds or even thousands of applications after you have declared a position open in your company. In most cases, your hiring managers will quickly be able to identify talented prospects that will fit the billing for your business depending on the sales goals. After sorting through the applications you will be left with just a handful of applicants and it will be a lot easier to pick the highest qualified reps that are most suitable for your company.
2. Using platforms such as PEO solutions
Nowadays it has become fairly easy to develop your business network on the web. It is useful for finding out the remote sales reps. You can use some of the many online platforms to locate experienced sales experts. Some platforms offer various businesses an opportunity to hire, train, and manage commission-only reps. If your company operates in Europe the best option would be to partner with an international PEO that takes care of these services and helps your company grow bigger and more successful.
3. Have a sales assessment test
For saving yourself time, resources, and stress you need to decrease the number of interviewees and just interview those with the requisite skills for your business. Organize a test to verify the sales skills of the candidates such as competitiveness, optimism, and never-say-die attitude. Some of the businesses manage these remote sales teams by using time tracking apps. The use of similar software can help you monitor the sites visited, monitor clicking activities, and track other apps used by the candidates as they undertake the test. This will ensure that you have an honest appraisal of their capabilities. This also makes it simpler to identify the right candidates for your sales teams.
4. Perform an online behavior interview
One of the important indicators that will show how the prospect sales rep might handle your business is checking their past behavior. For the candidates that pass the assessment, you can schedule an online meeting that can be used for learning about their perseverance, goal-setting capabilities, creativity while solving issues, etc. Make sure that you find out why they are leaving the earlier work. Answers to these queries serve as a background check and will tell you a lot about the prospect and decide if he or she can be the game changer for your business or just someone looking to make ends meet.
5. Review their LinkedIn profiles
Reviewing the LinkedIn profiles and resumes of the prospects gives you a good idea about the right prospect for your sales team. From all the info supplied through their account you can find years of experience, the organizations they have worked for earlier, their key achievements, etc. The sales personnel that were working with high-performing companies will provide other ways of assessing their performance. It is because working with a major brand is already an advantage in sales. Another thing you need to look for is LinkedIn recommendations from colleagues and clients. This helps you judge their attitude as sales personnel.
Summary
When you find more than a single candidate that meets the requirements opt for all of them. Do not bother about other things to work out. In most cases, you will find that these other things will later fall into place.
By Nile Calrson
During these uncertain times, the importance of personal connection is being highlighted – especially to those who are in service industries such as the real estate sector. Top international real estate coach, Brian Buffini, believes that prioritising self-care and the well-being of others is at the forefront of success in 2021.
Buffini, founder of Buffini & Company whose coaching services have trained more than 3 million professionals from 37 countries worldwide, cites that between 14 and 23 million people plan to relocate in the next year due to shifting work environments, including work-from-home flexibilities and new remote work policies.
Calling this the "decentralisation of how people are living," and with the heightened movement across many markets these days, Buffini says that it remains incredibly useful to be connected to a global network whose affiliates support – and refer business to – one another from across local regions as well as across the globe.
According to the latest advice from Buffini, one essential component lacking from our new pandemic routines is human connection. To remain successful in these times, Buffini states that an agent's priority, therefore, should be on their own well-being, and that of their clients.
"There's never been a better time to call people on the telephone and actually have a conversation – they actually will talk to you. You know, most people will want to hear you, they want to see you [and] they want to have some kind of human interaction," Buffini says.
He says that dropping off small gifts on clients' doorsteps – usually useful items such as first aid kits, hand sanitizers, or even just a tasty treat – have become a popular way for real estate professional to show their clients some love from a safe distance away.
"Find a way to reach out to people [with a] personal touch – do the little things. Every little personal touch right now, to me, is magnified enormously," he says.
These small personal touches help establish long-term trust between the agent and the client. This trust is so vital to families who come to rely on the agent's advice during pivotal transitions in their lives
"There is no technology that competes with personal trust. You can have that old-school philosophy [and] you can have new-school techniques, [technology] and marketing to support it," Buffini says.
Especially during trying times, Goslett explains that an agent's role is more important than ever before. "There is enough to worry about in the midst of this pandemic without still having to stress about the legal and financial requirements of moving homes. Successful agents will be the ones who acknowledge this and make themselves a valuable and reliable source of advice to ease homeowners concerns during the process," Goslett concludes.
How to become a real estate agent in South Africa
Want to pursue a career in real estate? Follow this step-by-step guide for all the information you need about becoming an agent in SA and earning commission.
You might have heard about 'qualified real estate agent' or perhaps even considered a career in the property industry, chances are that you started and then discarded your search due to all the jargon used or the various resources you needed to work through in order to get the full picture. We take an in-depth look at the process and what a real estate specialist has to do in order to earn their commission.
Getting qualified as an estate agent today is not as easy as it was in the past. "It is imperative for an aspiring estate agent to be provided with the correct training opportunities so that they are well equipped to earn a decent income working in an industry that is extremely competitive"
This Guide covers the following:
Definitions of terms used
Who needs to have a real estate qualification
The costs involved
The basic requirements
Get going – the 5 step process
Need to know before you get started:
Definitions:
Education Regulations means The Standard of Training of Estate Agents Regulations
EAAB means the Estate Agency Affairs Board
NQF Level 4 means the Further Education and Training Certificate required by non-principal estate agents
NQF Level 5 means the National Certificate: required by principal estate agents
PDE means the Professional Designation Examination conducted by the EAAB
PDE 4 means the Professional Designation Examination for non-principal estate agents.
PDE 5 means the Professional Designation Examination for principal estate agents
FFC means Fidelity Fund Certificate issued by the EAAB validating legal trade in property
Who needs to have a real estate qualification?
A real estate qualification is required by anyone who buys or sells property as a profession,
Negotiates to buy or sell property;
Canvasses or undertakes or offer to canvass for a lessee or lessor for rental of property;
Publicly exhibits a for sale or to let of property;
Collects or receives any money payable on account of a lease of immovable property or business undertaking; or
Renders any other service which the Minister of Human Settlements may specify by means of a notice in the government gazette.
What costs are involved?
As with any professional qualifications, there are fees applicable. The costs are not payable all at once, but rather at the various stages of the process. The total fees for the 2 year period is approx. R25 000.
What are the basic requirements?
The intern estate agent needs to complete the 12 month internship of being mentored by a professional and experienced estate agent. This requirement will ensure that the intern is provided with a personal record of all practical tasks completed and experience gained at the workplace.
The intern is expected to complete and maintain a logbook in which accomplished activities are recorded and signed-off by the principal/mentor/coach/supervisor assigned to assist and provide the intern estate agent with logistical support during the internship period.
There will be no exemptions granted for completing the internship or the logbook.
The intern estate agent must complete their FETC (the Further Education and Training Certificate) in Real Estate at level NQF 4 through with an accredited provider and receive a certificate of competence from Services SETA (the Services Sector Education and Training Authority)
This qualification has 150 credits, which equates to 1 500 notional hours (study hours needed to complete the course).
It is possible to combine the FETC NQF 4 qualification and the internship so that the intern estate agent can work on these two aspects of the qualification at the same time, as long as they have completed at least 8 months of their internship.
If the intern holds any degrees or diplomas in certain areas, it is possible to apply for and be exempt from completing the FETC.
Lastly an intern must also write and pass the Professional Designate Exam (PDE) after they have been found competent by Services SETA in their NQF Level 4 portfolio of evidence.
The PDE 4 must be passed within 2 years from the date of the first issue to the intern estate agent of an intern fidelity fund certificate, it grants the intern estate agent a status upgrade to full-status non- principal estate agent.
No exceptions will be granted from writing the PDE exam.
If an agent wants to further extend their education in order to become a principal and run their own business they must be found competent in NQF level 5 and PDE level 5.
It will take between 2-3 years for an intern estate agent to complete the whole process and 3-4 years for a principal. An intern agent may sell property in the meantime, but no legal documentation – mandates or contracts – may be signed off without the presence of the principal or full-status agent. Professional, registered designations are as follows – PPRE – Professional Practitioner in Real Estate (PDE 4) and MPRE – Master Practitioner in Real Estate (PDE 5).
The 5 step process
Step 1: Apply for a position at a registered estate agency as an intern
All persons seeking to enter the real estate agency profession are required to serve as intern estate agents, acting under the supervision of a principal estate agent or of a full status estate agent who has continuously held a valid fidelity fund certificate issued by the EAAB for a period not less than 3 years, thereby creating a mentor-protégé relationship, regardless of any academic, professional or other qualifications which they may hold.
Once the potential intern estate agent has decided on an employer of choice, they will still need to apply for the position, and go through the interview process. "We at Inorbit Property have set a procedure of interviews which are completed before we select our agents, as we only take on individuals who will live up to the company values. The first interview after receiving a CV will be a telephonic one, if you meet the basic criteria, you will be invited for an official interview. Should a candidate pass the second phase, they are given an online test to complete which aids us in ensuring that the candidate will be successful" says Craig Hutchison, CEO of Inorbit Property Southern Africa. This is quite an important step, as the choice of employer could determine the success or failure of the potential intern estate agent.
Step 2: Register with the Estate Agency Affairs Board (EAAB)
Once the intern estate agent has successfully been employed, they need to register as an intern agent with the Estate Agency Affairs Board (EAAB) to receive their "intern" Fidelity Fund Certificate (FFC).
In order to register, a candidate needs to lodge a completed application comprising of:
Application form
Certified copy of a valid I.D book;
Certified copy of a valid passport if not a South African;
A valid work permit if not a South African;
Required payment or proof of payment for registration;
Letter of employment (on an official letterhead) signed by the Principal of the firm.
Step 3: Complete your 12 month internship
All new entrants to the estate agency profession are obliged to serve as intern estate agents for a continuous period of 12 months from the date of the first issue of their FFC. The aim of the compulsory internship period is to equip the intern estate agent with the relevant practical and theoretical workplace knowledge required to operate successfully in the sector. Each intern has to undergo training and practical knowledge of all of the following: Industry, Law, Finance, Marketing, Management, Administration, and Paralegal.
The intern estate agent is expected to complete and maintain a logbook in which accomplished activities are recorded and signed-off by the principal/mentor/coach/supervisor assigned to assist and provide the intern with logistical support during the internship period. Tasks recorded in the logbook include:
Listings completed
Inspections done
Show houses arranged with registers
Mandates negotiated
Sales/lease contracts concluded
Property values established
Agendas for and meetings/training attended
Proof of time management and time/log sheets
Step 4: Complete NQF 4 through an accredited provider (150 points / 1500 hours)
It is expected that, after having served as an intern estate agent for a continuous period of 12 months and having been certificated against the FETC: Real Estate, the newcomer to the sector will have attained a similar degree of knowledge, skills and expertise as a practitioner who has already been active in the estate agency profession for quite some time.
What topics are covered in the NQF4?
Estate Agency Affairs Act and Code of Conduct
Real estate product and services
Legal environment – acts
Legal environment – contracts
Financial process FICA/tax/accounting
Marketing and selling/leasing – immovable property
Estate agency management
Agency administration and systems
Paralegal environment
The criteria for NQF4 qualification
The entrant must complete their internship training (NQF4 Qualification) with an accredited provider and receive a certificate of competence from Services SETA (the Services Sector Education and Training Authority)
Services SETA (SSETA) governs, controls and monitors education standards. The real estate industry falls under SSETA Trade and Industry. It is legislated that in order to be a full status real estate agent, the candidate must be found competent in the outcomes based NQF Level 4 Real Estate.
This qualification has 150 credits, which equates to 1 500 notional hours (study hours needed to complete the course). SSETA require 30% of the time spent studying to be in the classroom and the rest open book, on their own. It is designed so that the intern estate agent can easily complete the qualification at their own pace within the allocated time.
The ideal scenario is to complete the academic qualification simultaneously with the practical logbook in the workplace. The time frame for completion is 1 year for the logbook and 2 years for the academic qualification. The intern estate agent must maintain a Portfolio of Evidence (PoE) reflecting the various estate agency functions and activities that have been undertaken and performed during the course of the internship period. The PoE & Intern logbook is submitted to the EAAB for assessment and granting of NQF 4 status:
Intern estate agents holding relevant (certain subjects and experience) tertiary qualification, can upon application to the EAAB and having paid the required assessment fee, be granted an equivalency exemption against the NQF Level 4 and/or 5 real estate qualifications.
If the intern estate agent has exemptions for NQF4, they must submit their logbook for assessment together with the required documentation for exemption.
The Portfolio of Evidence ("PoE")
The portfolio of evidence will be a separate file, carefully created and maintained by the intern estate agent and should align with the prescribed logbook activities.
All naturally occurring workplace evidence generated over the 12 month internship period, and reflecting the workplace learning experience of the intern estate agent, should be inserted.
The intern estate agent will be required to download and print the Portfolio Guides (questions) as they form the Portfolio of Evidence (PoE).
Exemption:
Please refer to the exemption matrix for details on who could qualify for exemption. Should the intern estate agent apply for exemption, their application will also be included in their PoE. The following documentation should be added:
a letter from the applicant indicating the NQF real estate qualification(s) against which the applicant seeks an equivalency exemption as well as whether or not the applicant currently holds a valid fidelity fund certificate issued by the EAAB and, if so, the status of that fidelity fund certificate (whether an 'intern', 'non-principal' or 'principal' fidelity fund certificate);
a copy of the candidate's identity document;
the candidate's full curriculum vitae;
original(s), or certified copy(ies), of qualifications either awarded to the candidate or in respect of which the candidate relies for the assessment of the equivalency exemption application;
original(s), or certified copy(ies), of the statement(s) of courses passed towards the attainment of the relevant qualification(s);
original(s), or certified copy(ies), of any other professional qualifications and/or designations that may have been awarded to the candidate; and such further information as the applicant wishes to disclose to the EAAB for the purpose of properly assessing the applicant's equivalency qualifications.
Some approved Institutions:
Step 5: Write and pass your PDE4 (Professional Designate Exam)
The Professional Designation Examination (PDE) is an integrated test of knowledge and case study for estate agents. After the internship or after the 8th month the intern estate agent may apply to take their PDE4 exam with the EAAB. After successfully submission of the logbook and PoE, the intern will be allowed to enrol and undertake the Professional Designation Examination for non-principal estate agents (PDE4). The Education Regulations provide that no person may be registered as a full status estate agent unless that person has successfully completed the PDE 4 conducted by the EAAB.
The criteria for PDE qualification
Only estate agents that have already qualified or been exempted for the NQF 4 (Non-Principals) and NQF 5 (Principals) should apply to write the PDE;
Interns need to achieve 65% or higher in order to pass and be certified.
Upon passing PDE 4, the intern's status will be automatically upgraded to a full status as well as the designation, Professional Practitioner in Real Estate (PPRE).
Once the intern estate agent is upgraded to a Full Status Property Sales Advisor, they can operate independently within the company they are employed by.
Earning CPD points
Continuing Professional Development (CPD) is the future in real estate, as it is in most other professional industries. This happens via road shows and seminars presented by the EAAB across South Africa on relevant topics including new legislation, changes, updates and amendments. It helps all agents and principals to stay abreast of ever-changing industry regulations relating to real estate, as well as new laws and acts. In order to maintain status and professional designation, every registered agent/principal is required to accumulate and maintain 60 CPD points in a rolling 3 year cycle (equivalent to 60 hours of training).
The process of becoming a Professional Practitioner in Real Estate may seem to be a long, tedious and intimidating one.
How to interpret and react to property listing times
Estate agents and property economists often talk about the average "listing time" getting longer or shorter – but what does this actually mean to the individual home buyer or seller?
Gerhard Kotzé, says the average listing time is a useful measure of whether the market generally is moving in favour of buyers or of sellers. "The listing time of a property refers to the number of days between the time that it is first listed as being for sale, and the time that an offer to purchase is accepted or the owner decides to take the property off the market again.
"And of course that period tends to be shorter when there is high demand and lots of buyers keen to snap up any well-priced properties that become available – and longer when there is low demand and an oversupply of properties for sale relative to the number of potential buyers.
In short, when the national average listing time gets longer, it is an indication that a "buyers' market" is developing and that sellers may need to become increasingly accommodating with regard to both price and terms in order get their properties sold.
"On the other hand, when the national average listing time becomes shorter, it indicates an overall market shift in favour of sellers – and also the likelihood of home prices becoming less negotiable and possibly even starting to rise if the supply of homes for sale continues to shrink in the face of high buyer demand. n the latter set of circumstances the average home loan size will also tend to rise and it will become even more advantageous to be pre-qualified for a home loan, especially if you are one of a number of buyers making competing offers for the same property.
He says that this is where the market appears to be currently, according to the latest statistics from First National Bank, which show that the national average listing time fell to 67 days in the fourth quarter of last year from 76 days in the third quarter. In addition, the figures show that the average differential between asking prices and actual selling prices has declined to 10% currently from 13% at the beginning of 2020, while the average home price increased by 2,1% last year.
"However, it is important to remember that the property market is never homogenous, and that national averages can mask very big differences between various segments of the market. At the moment, for example, we are seeing much shorter listing times and greater price growth in the lower price categories than in the higher categories.
"There are also always variations between different suburbs, and this is where the knowledge and expertise of a reputable local agent can be of enormous help to the individual buyer or seller. As an owner that wants to sell your property within the current average listing time in your specific area, you will need your agent's help to fine tune your asking price and get it as close as possible to the what buyers in that area are currently paying for similar homes – and then to market the property as soon as possible to the biggest possible audience of potential buyers.
Without such help, the chances are that your property will languish on the market for much longer than the average listing time, that potential buyers will start to think that there is something wrong with it, and that you will end up either selling for much less than you hoped or withdrawing the property from the market.
Alternatively if you are a buyer, says Kotzé, a shortage of stock in any segment of the market means that it will become increasingly challenging to find "bargain" purchases and /or sellers who are prepared to consider offers that are not close to their asking prices.
"But asking a local agent to help you identify any properties that may have been listed for a long time is a good move – especially if the owners have already relocated to their new homes. If they are still paying off a bond and carrying the running costs of an empty property, they will probably be more motivated to accept a lower offer."
Knowing you're ready to move out of home
Record low interest rates have pushed a steady stream of first-time buyers into the property market, either moving from rental properties or simply leaving their family home. Those similarly hoping to move out of home for the first time have multiple aspects to consider before deciding if they are ready to take the plunge.
Adrian Goslett explains that one of the most important ways for buyers to know that they are ready is to examine their financial position. "Before a first-time buyer can even begin the process, they need to find out what they can qualify for on a home loan. Buyers can do this through bond origination companies such as BetterBond."
Thereafter, Goslett explains that buyers will need to calculate all the ongoing costs around homeownership. "There are so many expenses that are likely to be new to buyers who are moving out of home for the first time. Not only will these buyers need to be able to afford the monthly bond repayments along with the corresponding rates, taxes, levies (if they stay in a complex or residential estate) and municipal bills (things like waste removal, water, and electricity), but they will also need to factor in the costs of things like the monthly grocery bill, the internet connection and/or DSTV subscription, as well as home and household contents insurance and other similar expenses," Goslett lists.
Once buyers have their finances in order and all related expenses correctly budgeted for, buyers can move onto more practical considerations, like if they are ready to commit to a home for the next ten to twenty years. "Buyers need to view real estate as a medium- to long-term investment. It is not a 'get rich quick' scheme. Buyers need to decide if they are ready to live in a home for at the very least five to ten years if they want to ensure a return on their investment," he advises.
Though buyers might not yet have children, they may want to consider searching for homes in suburbs near good school districts. They should also consider their commute to work and where they might want to be situated five years from now. While this might seem like a difficult thing for young buyers to conceive, Goslett recommends that the home can always be rented out if the buyers' situation changes and the property no longer suits their needs.
There is a lot to consider before buyers can feel ready for homeownership and, though this may cause many to put off the house-hunting process for much longer than necessary, Goslett explains that the sooner they can enter the market, the better it will be for them in the long term.
"Real estate is an appreciating asset that can provide much-needed financial security to those who make smart purchasing decisions. I would advise buyers not to let the process overwhelm them. Instead, reach out to a qualified real estate professional who can guide them through the process. This interaction could help buyers become better informed and could even help them learn that they're much closer to being ready to own a home than they might otherwise have realised," Goslett concludes.
How to make a smooth move out of town
Ever since Covid-19 put everyone in SA into a hard lockdown at home, there has been a steady increase in the number of people rethinking their housing choices and deciding to make changes as fast as they can. And one of the biggest trends to emerge has been the migration away from big cities to smaller towns along the coast or in more rural settings.
However, there are many factors to consider before you just make the leap from city to country living, starting with the real costs of relocating. "One of the biggest drivers of the current movement away from the big cities is the desire for more living space and more opportunity to take part in family outdoor activities – and the prospect of buying both these things for much less in the countryside.
This applies particularly to those who have children and found out during lockdown that their homes were too small to accommodate everyone's needs (home office spaces, home schooling spaces, home gyms) when they were all at home together.
And it is true, he says, that home prices are often considerably lower in smaller towns, which gives buyers the opportunity to purchase a bigger property for the same money and often, the chance to get closer to nature too. "We also see quite a number of people now moving from the suburbs to country or coastal lifestyle estates that offer a range of sports facilities and outdoor pursuits.
"But it is very important to include several other items in your calculations so that you can determine the real cost of the new lifestyle you envisage. These include one-time expenses such as the legal and transfer costs that apply when you buy a new home, the costs of selling your old home, the costs of moving all your belongings, and the costs of any renovations or upgrades to your new home.
"You also need to plan for ongoing maintenance, just as with your current home, and if you are planning to live in a really remote area, you probably need to increase your transport and vehicle maintenance budget. Then if you are moving to a country estate or gated complex, you will need to include the monthly levy."
Other strong motivations for packing up and heading for smaller towns, Kotzé says, include a growing desire among many families to live closer to certain friends or relatives who make up their extended support system and, among younger homeowners and tenants especially, the closure of many of the shops, restaurants and workplaces that used to make city-centre living fun as well as cost-effective.
Many young people just don't see the point anymore of paying higher rents or home prices for a tiny space in the inner city when they are now working remotely anyway and can probably pay much less for more space somewhere else. That trend has been boosted by the current very low interest rates, which are also making it cheaper for many young remote workers to buy their own home instead of renting, especially if they move out of town.
To make this plan work, though, their preferred location does need to have really good internet and cell phone connectivity, so this is the second most important thing for remote workers to check while planning an "escape" from the city, he says.
Other vital considerations include:
Basic amenities.
Many small towns in SA have erratic water and power supplies, so you may need to buy a generator, water storage tanks and some solar power panels if you want to live comfortably. You should also check the state of the access roads and decide if you will need a more rugged vehicle.
Shops, schools and medical services.
You might not want to live in a town with a huge shopping mall, but it's not much fun to have to drive 50km to the next town every time you need bread and milk or medical attention, so it's important to ensure that there is a local outlet for basic supplies – or better still, a local farmers' market where you can buy fresh bread and produce – and a local doctor. If your children will be attending school, it should preferably also not be a long daily bus ride away.
Leisure time pursuits.
If you're making the move because you love the outdoors, make sure your chosen location is close to hiking and biking trails, birdwatching spots and a golf course or two. Or if you are a beach person, there should be places nearby to swim, fish, surf or sail. Some country estates offer many of these facilities inside a secure perimeter, as well as other sporting facilities, a clubhouse, a restaurant and perhaps even a wellness centre.
The local community.
Relocating is always much easier if you move to a place with a friendly and active community that will welcome you and your family and encourage you to participate in local cultural events and celebrations. This is especially important if you are a creative person and would like to mingle with other artists, writers or musicians.
"Obviously it is difficult to find all this out from a distance, so it really is worth contacting a reputable local estate agent who will be able to give you all the information you need, as well as photographs and videos of homes for sale that match your specifications. What is more, if they belong to a national group like RealNet, they will also be able to help you sell your existing property and speed up your escape."
Can real estate contribute towards rebuilding South Africa's crippled economy?
Despite President Ramaphosa's optimistic analogies of fynbos re-emerging after fire, 2021's State of the Nation Address made it clear that South Africa has a long, and largely undefined, road to recovery ahead. While defeating the coronavirus pandemic and state corruption featured highly, economic recovery took centre stage. The good news is, this is one area in which help may be at hand from an often overlooked economic contributor: property.
"The latest estimates that I've seen show the South African property sector contributing as much as R191-billion to our GDP, with a R46-billion direct contribution to the fiscus," "That's a far more significant contribution than the sector typically gets credit for, and we have reason to believe it could be increasing even further in 2021."
According to Clarke, the property sales momentum created by 2020's "unicorn" buying conditions (rock-bottom interest rates, motivated lenders and plenty of well-priced stock) shows no sign of slowing down as yet. Should the various economic stimuli announced in the president's address be implemented successfully, he believes this activity – and the valuable liquidity it adds to the economy – could continue well into 2021, at the very least.
"One of the most pivotal factors will be the recovery of business and consumer confidence," he says. "This impacts real estate directly, by increasing people's willingness to invest in long-term assets like property, and indirectly, by improving job security and income growth and therefore affordability.
"In return, a healthy property market stimulates the GDP and boosts confidence levels further. Barring disruptions, this creates a self-supporting growth cycle that could contribute significantly to our country's economic recovery."
Clarke says 2020's property activity boom has already improved investor confidence in property both locally and internationally, where buyers have the additional motivation of a very favourable exchange rate. However, broader economic stimuli will go a long way towards building sustainable confidence levels across the board, maintaining this momentum long after interest rates and property price growth return to "normal" levels.
"There were a number of programmes outlined during SONA that could contribute towards this objective," says Clarke. "These include expanding local production and exports, prioritising local procurement from SMMEs, addressing ongoing electricity shortages, investing in infrastructure and job creation, and – perhaps most importantly – fighting state corruption."
Some progress on these fronts has already been reported. Over 430 000 job opportunities have been supported through the Presidential Employment Stimulus as of January 2021, and a further 180 000 opportunities are in recruitment. The 100-billion infrastructure fund is now also in operation with R340-billion worth of investment in the pipeline for network industries like energy, water, transport and telecommunications.
"It's gratifying to know that there has been some progress, despite all the odds stacked against us last year," says Clarke. "Every little improvement contributes to positive investor sentiment, and encourages participation in sectors like property which play an essential role in supporting and growing the economy."
Rental demand shifts to suburbs and other trends as life adjusts to the Pandemic
The Covid Pandemic has necessitated a number of key shifts in the needs of tenants
Just like home buyers, tenants are saying that if they have to be largely confined to their homes and work from home, they prefer a house with views of the garden, mountain or ocean. While bigger apartments with space to work from home is sought, demand remains under pressure for holiday apartments.
Demand swings from inner city living
Craig Watchurst, says that demand is shifting from areas such as the CBD which were highly desirable to live close to places of work and to avoid travel time and petrol costs. Remote working means many potential tenants are now moving to homes where they can have a view of the mountain or ocean rather than looking at buildings all day.
Landlords who own new development stock and were holding out for higher prices have missed out on the few potential tenants who were in a position to still rent, he says further.
Suburban homes in high demand
Echoing the residential homebuyer trend where there has been a notable shift to the suburbs or bigger properties, Seeff is seeing a similar trend which explains why Cape Town's suburban areas have a lower vacancy rate according to the latest TPN Vacancy Survey.
Jacqui Bush and Sonya Garisch, say their rental markets have been exceptionally buoyant since mid-2020 with several record months. In Constantia, Newlands and Tokai demand currently exceeds supply in certain price bands. Generally, if a property is priced correctly it will be let within the first few weeks. For the general rental market, free standing family homes with a garden and swimming pool in the R20 000 to R35 000 range are in demand.
Anneke Van Rooyen, says that it is no surprise that Cape Town's northern suburbs have the lowest vacancy rate of just 5.1% according to the latest TPN Vacancy Survey. The northern suburbs have always been a source of quality accommodation at reasonable prices and vacancies are often as a result of high landlord expectations. There is, however, some oversupply such as developers who held out for higher rentals.
EAAB under audit as REBOSA takes to court
Having exhausted all other options to rectify ongoing service delivery issues from the Estate Agency Affairs Board (EAAB), the Real Estate Business Owners of South Africa (REBOSA) has officially engaged in legal action against the regulator. Friday 5 March saw the parties face off in court for the first time, signalling much needed hope for hundreds of estate agents around the country still struggling to get their Fidelity Fund Certificates for 2021.
Court isn't the only arena in which the EAAB will need to defend its actions, however. REBOSA has today been made aware of a forensic audit of the EAAB ordered by the Minister for Human Settlements, Water and Sanitation, Lindiwe Sisulu.
"We are extremely thankful to see that Minister Sisulu is taking the EAAB's failures seriously, and that she has initiated investigations into the regulators consistent inability to fulfil their mandate," says Tony Clarke, Chairman of REBOSA. "This is a very powerful demonstration of support for our industry – support we are grateful to have as we continue to fight for the rights of real estate professionals."
The scope of the Minister's audit will cover the last 24 months of Fidelity Fund transactions, investments and processes; EAAB staff appointments; tenders and procurement processes; and legal matters attended and financed by the EAAB.
Clarke is hopeful that this will finally reveal the root of the regulatory body's service delivery issues which have persisted despite costs over R1.5 million which REBOSA incurred for salaries of people placed at the EAAB to assist with REBOSA member queries.
REBOSA wholeheartedly supports the intended role of the EAAB in implementing the Estate Agency Affairs Act and promoting better transparency, disclosure, accountability and governance in our industry," says Clarke. "In its current form, however, the regulator is effectively achieving the exact opposite.
By shedding light on the underlying cause of the situation, Clarke says Minister Sisulu's audit could become the catalyst needed to transform the EAAB into the positive force it was supposed to be and we hope that the minister will allow transparency in its audit findings and make such available to REBOSA.
In the meantime, however, REBOSA will continue its efforts to secure a court order forcing the EAAB to issue all outstanding FFCs to qualified agents.
"This is not a matter that can wait," he says. "Without current FFCs, qualified property practitioners are having to choose between committing a criminal offence by working as usual, or not earning a single cent in income until the EAAB gets its act together. It's an untenable situation. Resolving it must be our primary focus for now. After that, we can look towards solving the broader institutional problems at hand."
It's a booming buyer's market, but take care when signing an offer, warns Seeff
It remains one of the best times in decades to buy property according to Samuel Seeff, The key driver of the market is the five-decade low interest rate which currently provides about a 30% saving on borrowing costs. At the same time, the banks are still keen to lend and first-time buyers can find favourable conditions.
This has seen a flood of first-time buyers heading to the market who are keen to get an offer to purchase signed and accepted as quickly as possible so that they do not lose out. Seeff cautions that first time buyers must do their homework and ensure they inspect the property properly before making an offer.
Understanding the legalities of making an offer is vital. You can only sign one offer at a time unless you are looking to purchase more than one property, say Craig Algie and George Clelland, agents with Seeff Southern Suburbs. Since it is a legal document with financial implications, it is vital for buyers to ensure they know what they are signing. Always ask the agent to explain and clarify anything which is unclear.
The full details of the seller and purchaser/buyer and date and expiry of the offer should be included. If the seller does not accept the offer by the expiry date, it becomes null and void.
The property description including address and erf number or section in the case of sectional title should also be in the offer. Buyers should ensure they are provided with the relevant documents such as conduct rules in the case of a sectional title property or an estate so that they are aware of any restrictions as well as conduct regulations.
Knowing what price to offer might be a sticky point, says Michelle Vermeulen, principal for Seeff Queensburgh. Take guidance from the agent and ask for a list of recent sales in the area. Also check property portals to ensure you are not overpaying for the property.
The price offered should be clearly stipulated along with the deposit and date on which the deposit must be paid and also how the balance will be paid. If a mortgage loan is to be secured, that will be stipulated along with the date by when it must be secured. This date can be extended by agreement. The agent will usually assist with any necessary extensions. There should also be a stipulation that you are entitled to interest earned on the deposit until date of transfer.
Buyers must ensure they are ready to move forward with the purchase because they cannot just back out once they make an offer. A cooling off period would only apply if the purchase price is below R250 000. Although exceptionally rare, a cooling off period can be included by mutual agreement between seller and buyer.
Tiaan Pretorius, manager for Seeff Centurion says that it is common for offers to be made subject to certain suspensive conditions, usually securing a mortgage loan or selling another property. If these are not fulfilled by the stipulated date, which can be extended by agreement, the offer will lapse.
The risk for the seller is that these conditions might not be fulfilled leaving him without a buyer. The inclusion of the "72-hour clause" allows the seller to continue marketing the property. If a better offer comes along, the buyer is given an opportunity to waive the suspensive conditions, failing which, the offer will be rendered null and void and the seller can sign a deal with the new buyer, says Pretorius.
Fixtures are deemed part of the property while fittings are not permanently affixed and could be removed by the seller. Gerhard van der Linde, buyers must check whether any items are excluded such as hanging mirrors, chandeliers, pot plants and so on to avoid later disappointment. Stipulate anything which you might like to remain for the seller's consideration.
Inspect the property thoroughly before signing the offer. Van der Linde says further that the buyer must take care regarding the condition of the property. Request a property condition report which should be attached as an addendum to the agreement of sale and note what disclosures have been made by the seller, he says further.
If there is an undertaking by the seller to repair anything, make sure that the agreement clearly spells out what has to be repaired, at who is cost and by when the repairs must be finalised. It is preferable that these be done before the offer is presented or before transfer to avoid later issues.
Occupation is usually on registration of transfer, but you can negotiate early occupation and include that with the relevant occupational rent to be paid in the contract.
The agent should also provide you with a schedule of estimated transfer and bond registration costs. You will need this cash available upfront so that it can be paid without delay upon request from the relevant attorneys.
Property market in 2021: Low interest rates make it a buyer's market
The interest rate cuts of 2020, and the work-from-home lifestyle resulting from the pandemic, continue to play a role in property investment for 2021.
Article summary
The property market is expected to show more growth despite the recent lockdown and load shedding issues.
Interest rates are still at a record low following interest rate cuts in 2020.
The work-from-home lifestyle continues to contribute to property sales, especially in remote areas.
Following a tumultuous period for the South African economy resulting from the coronavirus pandemic and subsequent lockdowns, South Africans could be forgiven for being generally pessimistic about the future of the economy, and by extension the property market.
But following a resurgence in property sales in 2020, the SA property market continues to show signs of growth despite the pandemic and economic climate.
South African property market in 2021
The 2020 property market benefitted from pent-up demand. 2021 is not expected to experience the same major resurgence, but it will still benefit from the work-from-home lifestyle that defined 2020.
The demand for larger homes is believed to have its roots in the desire for a more comfortable working environment, as more people are forced to work from home. Homes in remote areas are becoming more desirable as the need to work from home makes the distance from city centres less of an issue.
The role of the 2020 interest rate cuts
The interest rate cuts of 2020 continue to contribute to property market growth, making property investment more viable, especially for first-time home buyers. In fact, FNB data shows that home buyers under 35 account for 43% of residential sales, a 38% increase from 2019.
Buy-to-let suffering as a result of the economy
Tenants are hard to come by in this new economic climate, leaving many rental properties vacant. As such, buy-to-let investment may not be subject to the same benefits as property sales. More home buyers are realising the cost-efficiency of a home loan versus that of a rented property.
More foreign investors
Local property buyers aren't the only ones drawn by South Africa's low interest rates. As more overseas buyers look to take advantage of the buyer's market, luxury homes in high-end areas will become more desirable.
Drop in house prices
House prices are gradually falling as a result of the economic climate, meaning that the buyer's market of 2020 continues.
Sectional title properties boosted by pandemic
The stay-at-home lifestyle has resulted in an increased desire for the sense of community that a gated estate provides. Sectional title properties will benefit as people look for homes situated in quarantine-friendly residential areas with safe outdoor spaces and efficient security.
Sustainability still an important requirement
The desire for environmentally friendly homes equipped with green tech continues to play a role in the property market, as it has for years. This is especially the case in South Africa, due to persistent load shedding; and more home buyers are looking for ways to make their home energy-efficient, or even get off the grid entirely.
Affordable housing
While the luxury housing market continues to experience price deflation, the affordable housing market is doing a brisk trade. This may be a result of government support for first-time home buyers, like the FLISP subsidy for lower income earners. Furthermore, properties purchased for under R1 000 000 require no transfer duties.
Considering an investment?
If you're looking to take advantage of the work-from-home trend and low interest rates; bear in mind that ooba Home Loans offer a range of tools that make the process easier. Start with our bond calculator; then use our free, online prequalification tool, the ooba Bond Indicator, to determine what you can afford. Finally, when you're ready, you can apply for a home loan.
Important factors to consider when creating a dual living property
Already a growing trend in South Africa prior to Covid-19, the pandemic has accelerated the concept of dual living and estate agents in many areas in Cape Town are fielding an increasing number of queries for properties that will accommodate more than one family, but they are few and far between.
"In recent years, we saw the median property prices, especially in the most sought-after areas, increase considerably and dual living became a viable option as it offers a very practical living solution and allows investors to get a foot in a market which might otherwise be out of their reach.
"With the additional financial pressures of Covid-19 in an already subdued economy, demand for such properties shows no signs of abating and is very likely to increase exponentially in the coming years. "Also contributing to the rising popularity of the trend is the shortage of retirement accommodation, the added security offered by multiple residents, the financial saving of a single set of rates as well as the increasingly common need for home owners to reduce the bond burden by taking in a paying tenant."
He adds that dual living properties are also an excellent investment option if you are buying to enter the rental market as two homes on a property will generally yield a higher combined rental than a single dwelling.
"The trend is especially popular in areas with larger erfs like Hout Bay and Noordhoek where agents are reporting a notable spike in demand for homes which can be shared," says McKirby
"However, it can be more difficult in the more densely built-up areas and older suburbs like Observatory, Woodstock and Muizenberg, where the Victorian semis take up most of the erf and there is not much room left to add extensions or granny flats.
"Many of these older houses also fall under Heritage due to their age and going up a floor without a painful and lengthy application process is therefore not an option."
Investors looking to purchase property with an eye to creating a dual living home should take several factors into consideration so ensure that the additional investment adds to the resale value of the property.
"It's always advisable to thoroughly research the market in your chosen area as over-capitalisation is one of the major pitfalls which will not only diminish return on investment in the long term but could also defeat the object of earning a decent income in the short term because the costs outweigh the revenue.
To this end, a reputable and experienced estate agent with a thorough understanding of the market in the area will be able to assist you regarding prices and market trends as well as offer guidance in making a savvy selection.
She adds that if you want to buy and build a separate dwelling, it's imperative to first check whether you'd get local authority planning permission before taking the leap.
"One of the most important factors for successful dual living is to ensure all inhabitants enjoy a measure of privacy," says Cilliers, "and home owners need to carefully consider their needs and decide whether a separate, self-contained dwelling would be most suitable or if converting or extending existing structures would suffice."
Although one wants to avoid over-capitalisation at all costs, McKirby also warns against cutting corners if you are planning on making more than a few internal alterations.
"If you want to add extensions to an existing building, or to build a separate cottage or granny flat, it's crucial to consult a reputable architect and to have all plans approved.
"Failure to do so can have many repercussions, including years down the line when you decide to sell and the plans you hand over don't match the current structure.
"And if the option of 'building up' or going double storey is being considered, then an engineering report is definitely required, as the foundations and the rest of the existing structure may need to be reinforced."
Cilliers concludes: "In the current economy, whether you want to offset the rising cost of living or simply create a new income stream, dual living makes a lot of sense.
"As long as all the normal rules of common sense apply in terms of buying in the best area you can afford, and being careful in the planning stages to ensure that the proposed changes or additions add to the property value, then purchasing a dual living home is a sound long term investment."
Umhlanga Arch home to state-of-the-art new SMG BMW Dealership
The developers of the iconic Umhlanga Arch development have officially finalised a new partnership with a top South African motor dealer group, SMG BMW.
The inclusion of SMG Umhlanga is a perfect match for the Umhlanga Arch development and affirms Umhlanga Arch's goal to "bring the best in one place and create an extraordinary experience" that KwaZulu-Natal has not yet seen before.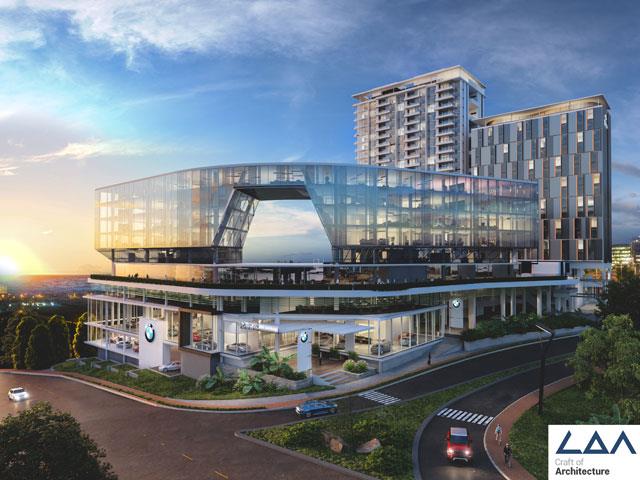 Sean McCarthy, Managing Director of SMG, says it has always been their goal to provide customers with the "most incredible experience". "Whether a customer is purchasing a vehicle or requires aftersales assistance, our ethos has always been to maintain a customer centric approach."
He says the new SMG Umhlanga dealership, based at the Umhlanga Arch, will revolutionise the motor retail experience in the greater Durban area. "The Umhlanga Arch development will offer our brand a space that will provide an unprecedented feeling of awe, aspiration and a design that will undoubtedly be trend setting."
Luxury BMWs will be displayed and featured in a new dealership that boasts double volume staircases, giving customers a sense of arrival and creating a truly modernised BMW experience, says McCarthy.
Umhlanga Arch is positioned on the slopes of Umhlanga Ridgeside and is a R1.3 billion, people-centred development, characterised by the iconic sea-facing arch configuration. With residential offerings almost sold out, office space up for grabs and a European-inspired high street, this development is the pinnacle of urban sophistication and a symbol of this exclusive area's enviable lifestyle.
"The bar has been set high for retail offerings at Umhlanga Arch and SMG Umhlanga's vision to create an experience unlike anything seen before in KZN's motor industry meets our goals of designing an exceptional lifestyle and retail high street," says Chris du Toit, Developer representative of Umhlanga Arch."
Du Toit says they look forward to welcoming exclusive car shows and events, as well as to being a part of this established brand as it reinvents itself, breaks the mould and designs a motor dealership of exceptional standards.
Home | Investing British Pound volatility brings hot opportunities for SA Property Investors
10 Surefire Ways to Sell Your Home as Fast as Possible
New residential, retail development for Woodstock
A victory for property owners